Dexter Russell Traditional 4" Oyster Knife Boston Pattern 10151 22
Dexter Russell Traditional 4" Oyster Knife Boston Pattern 10151 22
Product Description
Dexter Russell Traditional 4" Oyster Knife Boston Pattern 10151 22
Shucking oysters are much more pleasurable when you use an oyster knife with the right features. Shucking is the action of prying open oysters and separating their meat from the shell. The blade of an oyster knife is beveled yet dull, so the delicate muscle of the oyster will not become damaged when shucking. At the blade's end, the pointed or rounded tip is curved slightly upward which helps to unhinge the oyster and slice through its muscle. It is highly recommended you use the knife type designed for the right shell. We offer several different handle types; Boston Pattern, Brewster Pattern, Galveston Patten, New Haven Pattern, and the Providence Pattern. Make easy work of oyster shucking by using what the pros use.
Wooden handle knives are the most popular handle material in the world. The Traditional line of cutlery has stood the test of time and is the choice of many who appreciate the feel of a wood handle. This Traditional Knife features a high-carbon steel blade. Including an individually ground and honed edge for just the right flexibility and durability. Unique edge geometry ensures a long lasting blade edge, and easily restored performance every time it's sharpened. The handles are durable and require minimal maintenance if cared for properly, these knives will last you a lifetime. There is something to be said for great American made knives that have been used since the early 1800's. Made in USA.
Superior blade shape for easier slicing

Unique edge geometry for long lasting, easily restored performance

Hand honed to the ultimate edge

Formed handle for comfort and functionality

Polished Rosewood handles

Large brass compression rivets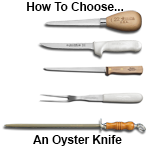 | | |
| --- | --- |
| BLADE LENGTH | 4 |
| HANDLE LENGTH | 2 1/2 |
| OVERALL LENGTH | 6 1/2 |
| PRODUCT NUMBER | 22 |
| SKU | 10151 |
Please note, this knife has a High-Carbon Steel Blade, it can rust and stain. Please make sure to clean your high carbon steel blade by hand washing and drying. Coat the blade with mineral oil and store in a dry place to keep it from rusting/ staining. Fine steel wool can also be used when needed. Dexter Russell has been manufacturing knives since 1818, and with proper care your knife should last a lifetime.
Warranty Information
Product Reviews
Find Similar Products by Category
Customers also viewed